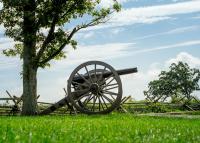 Let us plan for you, in advance, the perfect Gettysburg Tour! This package includes a two hour tour of the historic Civil War Battlefield of Gettysburg with a licensed guide and two tickets to Gettysburg's Visitor's Center (museum, movie and cyclorama); this is also a 2 hour tour. (A three hour tour of the battlefield is available upon request.)

No arrival and departure date specified yet.
Please select your travel dates to see availability.